Your cart is currently empty
Davis Dyslexia Association International Online Ordering
Information and Materials for use with Davis Methods
About Us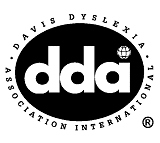 Davis Dyslexia Association International (DDAI) was formed in 1995 by Ronald Dell Davis and several associates in the wake of the success of Davis' book, The Gift of Dyslexia.
On this site, we sell books and materials to support the methods we have developed over the years.
Our goals are to increase worldwide awareness of:
the perceptual gifts, talents or potentials for genius that accompany and give rise to dyslexia;
effective methods for resolving the learning disability aspects of dyslexia.
We achieve these goals through:
DDAI is based in the United States and oversees training and licensing of Davis® providers worldwide. Affiliated Davis Dyslexia Associations have been established throughout the world, and co-ordinate training, licensing, and events within the regions they serve.